Transportation licence holder and carrier:
TOP Line d.o.o. Portorož
Obala 114 (TPC Lucija) | SI-6320 Portorož
TEL: (+386) 5 6747 161
GSM: (+386) 40 771 778
info@topline.si
VAT numbers:
Slovenian VAT ID: SI 53966449
Italian PART IVA: IT 00177529997
Croatian PDV: HR 30193994244
Registration number: 5348412000
Passenger transportation licence: G011246/04110
Valid until: 12.02.2025
Bank account for passenger transfer payments:
Nova KBM: SI56 0432 1000 1252 390
SWIFT: KBMASI2X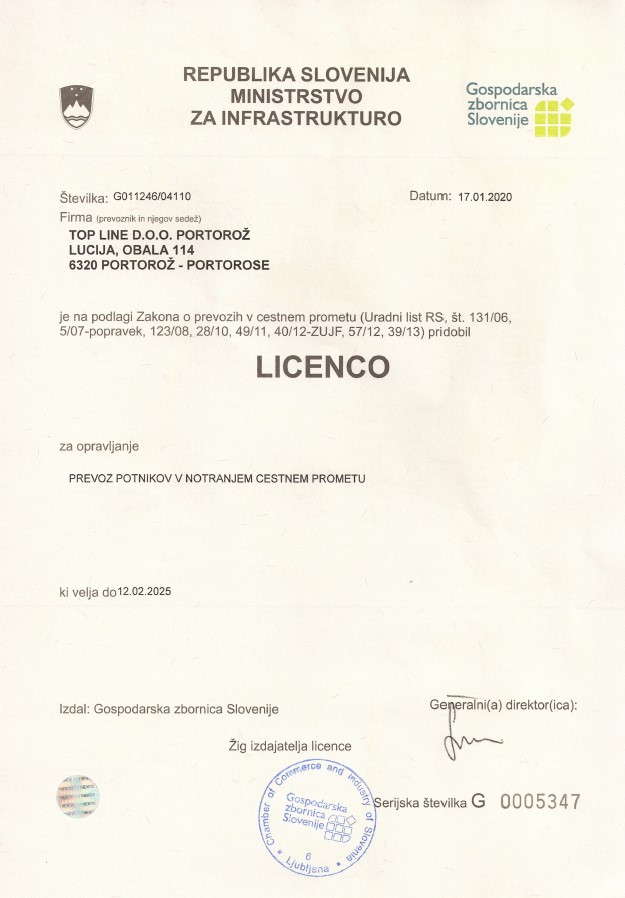 GENERAL CONDITIONS FOR ROAD PASSENGER TRANSFER SERVICES:
Delays
Please be on time and select the pick up time for your transfer wisely. Please consider that the pick up time of your transfer is not the same as the planding time of your plane. Give yourself plenty of time to collect your luggage and to come out of the terminal.
All prices include a waiting time for pick up of passengers:
Airports: 30 min
Non airport pick-ups: 15min